A ceiling fan can be an affordable and attractive addition to your home. While not as effective as modern air conditioning, ceiling fans have their own benefits to consider, particularly their low power consumption and aesthetic appeal. We've produced this unbiased guide to help homeowners decide which ceiling fan will be suitable for their home.
Where should a ceiling fan be placed?
Ceiling fans work best when providing direct airflow. Therefore, it is often recommended they are installed in the centre of rooms. Centering the ceiling fan is also more aesthetic. There are occasionally cases where you may prefer the ceiling fan to be placed off center. Bedrooms are a common example. To provide the best airflow, we often place ceiling fans center of where the bed is expected to be placed, rather than the centre of the room.
There are also environmental circumstances to consider. Some fans are only suitable for indoors, while others have added corrosion protection and may be installed outdoors. If installing a ceiling fan outdoors in a coastal area, be sure to select a ceiling fan made of 316 stainless steel. In coastal suburbs of Perth such as Fremantle, Cottesloe and Scarborough, we've seen rust appear on ceiling fans within a matter of months.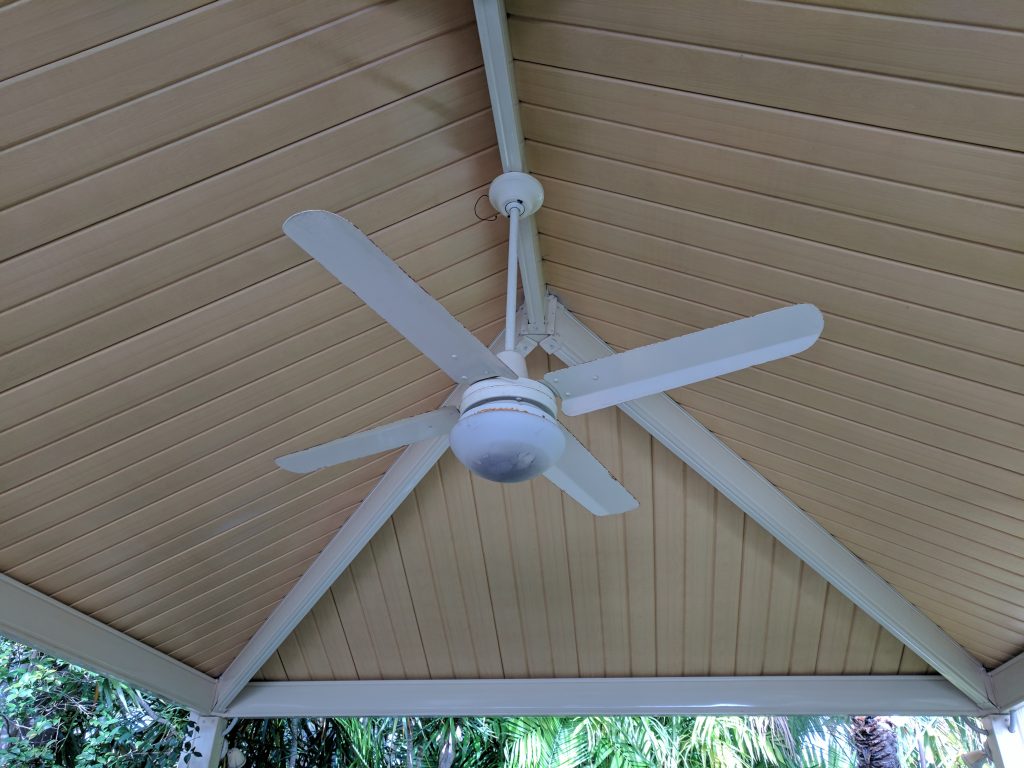 How do you know what size fan to buy for a room?
Ceiling fan size is measured using the diameter of the blade span. In Australia, there are three main sizes of ceiling fans. These are 122 cm (48 inches), 132 cm (52 inches), and 142 cm (56 inches). The most common ceiling fan size is 132 cm (52 inches), suitable for the majority of installation cases.
Determining the size of ceiling fan required is quite simple. Please refer to the below table for sizing requirements.
| | |
| --- | --- |
| Room Size | Ceiling Fan Size |
| Small or medium bedroom, up to 20m2 | 122 cm |
| Large bedroom or lounge room up to 36m2 | 132 cm |
| Alfresco or open living areas greater than 36m2 | 142 cm |
Does my ceiling fan need a light?
Unsure whether your ceiling fan will need to include a light or not? As ceiling fans tend to be installed in the same location as light fittings (the center of rooms), it can be ideal to combine them into one point. For small rooms, the light fittings that come included in ceiling fans is usually enough light. In larger bedrooms, living areas or outdoor areas, the ceiling fan light will almost certainly not be enough light. In these cases, downlights are a good idea.
Until recently, homeowners had to decide whether their ceiling fan will include either a halogen, fluorescent or LED light. Due to recent advances in LED technology, you should not opt for anything other than an in-built LED light. They produce better light, use less electricity, last far longer, and are much safer.
Are DC fans better?
There are two types of ceiling fan motors, AC (alternating current) and DC (direct current). AC fans are the traditional fan motors and still the most common, while DC have only recently been made popular. We'll avoid the technical talk in this guide, and instead only refer to the differences between the two.
DC ceiling fan motors have the following advantages over the original AC motor type:
They are lighter and more compact
They are very quiet, and don't experience any sort of 'hum'
They use less electricity – up to 70% less
In general, they start, stop and reverse faster
There is only one disadvantage of DC ceiling fan motors; their price. They are more expensive than AC ceiling fan motors, however this price difference is decreasing each year.
What types of blades can ceiling fans have?
There are several different blade types that come with ceiling fans. The most common are metal, wooden and plastic.
Metal ceiling fan blades produce more air noise than other blade types. Therefore they are only recommended when you require the classic brushed metallic appearance of ceiling fan. A good example of this is in alfresco and other outdoor areas, where a stainless steel ceiling fan is strongly recommended.
Wooden ceiling fan blades are quiet, making them ideal for bedrooms. They also have the benefit of having a wide variety of finishes to suit the design of your home. They are also quite affordable, and very light. They are not suitable for some outdoor areas, as we've seen many wooden ceiling fan blades swell due to moisture. Enclosed outdoor areas are fine.
Plastic ceiling fan blades have the benefit of being both light and naturally corrosion resistant. They are available in many different styles, some of which are very quiet.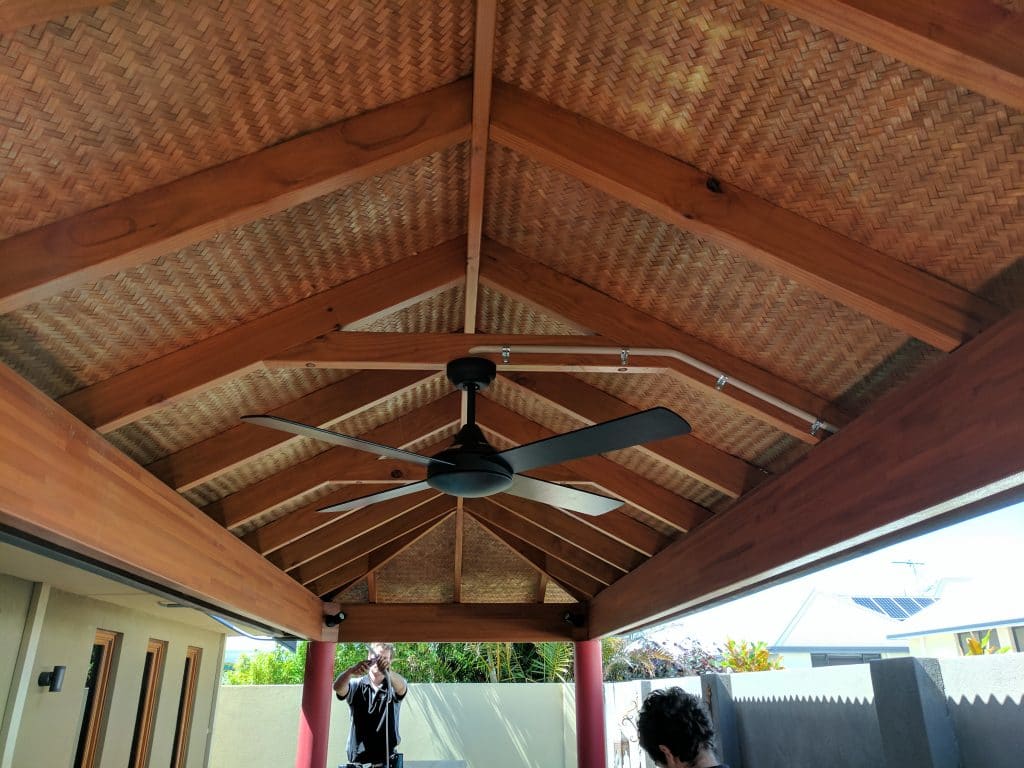 How many blades are best on a ceiling fan?
It doesn't matter, honestly! Most ceiling fans come with 3 to 6 blades. In the end, choose whichever number of blades you think looks the best.
How can you control the speed of your ceiling fan?
Ceiling fans can be controlled by either wall control, remote control or a pull cord.
Wall controls are the most common, however they are difficult to install and are generally unattractive. Their benefit over remote controls is that they won't get lost, especially useful in children's bedrooms. To reverse the direction of the motor, you'll need a step ladder to flip a switch on the ceiling fan itself.
Remote controls are increasing in popularity, and for good reason. You often have a greater range of fan speed options, can reverse the fan without requiring a ladder, can turn on the fan light using the remote, and can set a timer (for example, turn off automatically after one hour of usage. Great for kids bedrooms, or when going to sleep in summer). Ceiling fans on a remote are also easier to install. The downside is that, like car keys, ceiling fan remotes can easily get lost if not placed in a regular location.
Pull cords on ceiling fans are uncommon, though we have installed a few of these. They don't offer any benefits over wall controls or remote controls, and would only be suitable for cases where the installation of a wall control is not practical, and the homeowner would rather not use a remote control.
How high should my ceiling fan be?
In Australia, ceilings tend to be at heights of 2.4m, 2.7m, or occasionally as high as 3m. If your ceiling is higher than 3m, an extension rod will be required. These can be purchased from the ceiling fan manufacturer.
The blades of the ceiling fan should not be less than 2.1m from the floor. This is an important consideration when selecting a ceiling fan for rooms with a ceiling height of 2.4m. Low profile ceiling fans are available, but these should only be purchased when required and not for their appearance alone, as they are more expensive and typically less effective.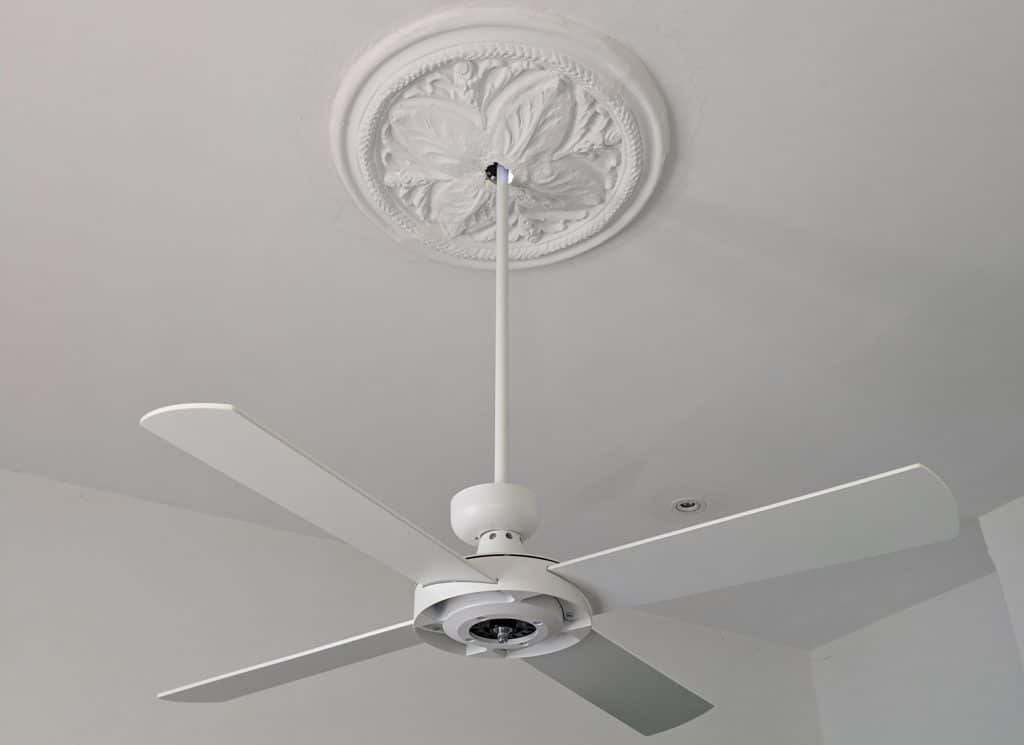 Special considerations when selecting a ceiling fan
Below are some other points to consider when deciding on which ceiling fan to purchase:
If you have a raked/sloped ceiling, make sure you purchase a ceiling fan that's compatible
While DC ceiling fan motors are up to 70% more efficient than AC ceiling fan motors, this doesn't mean AC ceiling fans are inefficient. In fact, they average around 30 to 50 watts of power (for some comparison, small air conditioners use 750 watts of power, and electric heaters use 2400 watts of power!)
Don't buy budget. We've found cheap ceiling fans to be noisy, prone to issues, and failing after only a couple of years of usage
Before purchasing a ceiling fan, it is recommended you seek advice from an electrician to ensure it will be possible for them to install it
Where is the best place to purchase a ceiling fan?
Be sure to research different models of ceiling fans before deciding to purchase one. Look at the feedback other consumers have had, and whether the manufacturers have honoured their warranty on failed products. Don't be afraid to purchase products online. We've found online retailers often have comparable or even better service than brick and mortar stores.